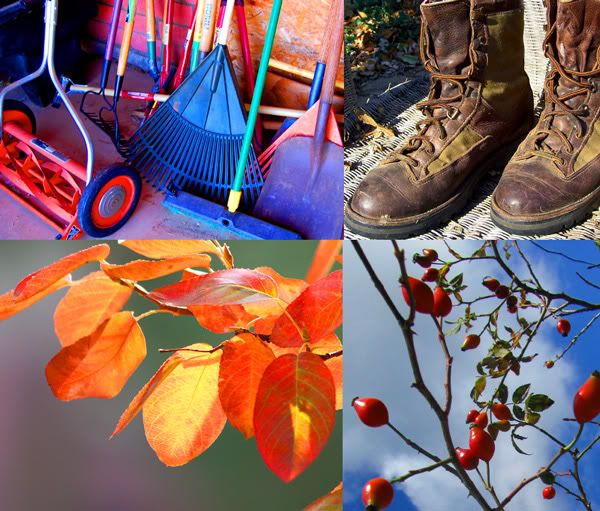 Well, it's that time of year again and fall is upon us. Everyone keeps asking me if I'm done gardening yet and I reply that no in fact things are getting pretty busy in the garden business right now. Believe it or not, I'm so busy right now that I threw out my back yesterday and spent the evening eating ibuprofen…ugh. And spent the morning with my chiropractor! And yes, I'm back in action!
Garden work picks up in the fall because it is the best time split overgrown plants and move them to fill in an empty spot-or perhaps rearrange some plants that were not "working" well together. "Obsessive" gardeners(like me)are never done in the garden. We are constantly looking for the perfect plant combinations that will work well together from spring all the way to fall. One plant can not do this-that would be boring! We tend to think about seasonal combinations of plants. And fall is the best time to think back about what worked well together and what did not…and split and move and maybe put something new in. Since all your other crazy gardener friends are splitting as well, they probably have some weird plants to give you that you won't be able to resist putting in your garden…which you will have to wait until next year to see if it looks good or not…and the cycle is ever continuing…hence the term "Crazy as a Gardener!" I think I just made that up.
Since you are digging around in the garden anyway it is also the best time to get some bulbs and put those in the ground. I always like to plant bulbs in groups of at least 5…otherwise you just end up with a lonely tulip here and a lonely daffodil there. They just look straggle-ish that way…you won't get a lot of compliments, trust me. It will look more like you hired a squirrel to do your garden maintenance. Which they will in fact do for free. In fact squirrels and chipmunks will rearrange your bulbs weather you ask them to or not. Gotta love 'em for being such hard workers. Heck sometimes I do the same thing myself to my neighbors yard…shhhhhh…don't tell anyone.
Once I've finished all that dirty work it's usually time to look around and start cutting down some of the plants. So I break out my bi-pass clippers, big green tarp, and my rake and get busy cutting down most everything. I don't cut it all the way to ground, though. I leave about 1/3rd of the plant to provide winter protection. It just seems cruel to take all the clothes away for winter. I realize that the slugs and fungus can overwinter in this left behind debris, so usually I try to remove diseased debris completely. BTW-this was kind of a weird year for peonies…did anyone notice?I noticed some strange wilt issues early in the summer and I'm sort of ignoring it for the moment.
After I clear out the beds-NOT touching the roses-although I hear it is a good time to apply fungicide-I will rake up excess leaves out of the beds or blow leaves off the beds and into the lawn and then mulch them with the mower. The days of raking every leaf and sending it to god knows where are over. Today the savvy gardener blows them into the yard for the lawn guys to mulch, or just mows'em themselves.
Also, if you have a pond, you really do not want to let leaves fall into it and rot. You need to get those leaves raked up and also pull them out of the pond as best as possible-or you'll be sorry.
Fall is also a busy time to look around and see what branches and shrubs will need to be pruned in February-Ha ha-that is soooo funny! As if I am going to wander around in 0 degree weather!
It is also a time when you look around and see that you don't have enough fall interest shrubs and plants in your garden. Note to self for next year!
And you start to feel a little sad about the end of the garden, but a little happy at the same time because you will finally have some time to clean out your basement and maybe do some art work, or organize family pictures, or write someone a letter-do people even do that anymore??
GartenGrl
Originally posted 2009-10-27 13:25:28. Republished by Blog Post Promoter
-- Weather When Posted --
Temperature: 27°F;
Humidity: 88%;
Heat Index: 27°F;
Wind Chill: 27°F;
Pressure: 30.31 in.;
Related posts: