Archive for Garden Pests
Courage: a quality of spirit that enables you to face danger or pain without showing fear(1)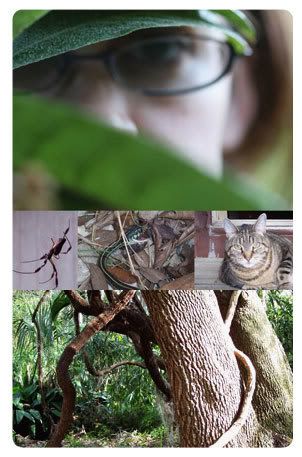 Come spring as we begin our fearless foray into peoples messy untamed garden jungles; surrounded by piles of menacing dead branches, unsightly beds filled with brown and wilted vegetation, cracked and broken pots, old abandoned sharp tools left to rust lying in a grey and mucky menagerie-
We climb mountains of boulders which can be slippery and precarious, we forage streams of spring run-off and deep pooling water, we have to hack our way through dangerous raspberry patches, and we sometimes get mangled by sharp clawing rose vines. We clear giant tree branches, shovel mountains of mud, and haul piles of debris. It's hard, back breaking work…and we do it!
We encounter wild animals on land; squirrels, chipmunks, salamanders….the occasional worm. Cougars! Don't laugh, it's true…One can never be too careful, I say to myself when fear creeps up my spine on that rare occasion that I find myself no longer in the formal garden but suddenly in the woods…out back…yep, scary stuff.
And don't forget to keep an eye on the sky! Many a gardener has been attacked from above by angry and venomous wasps. I myself have had to fight and claw off an angry swarm of stinging mud daubers. My only salvation was to dive head long into the swimming pool. "I don't believe it!", you say. Well, believe it! It's a mad jungle out there. And the only thing between you and that beautiful garden is a BRAVE gardener!
And brave is what we are. We are Garden Hero's, come to save the day! We accept our accolades with a humble sense of "just doing our job, mam, sir!" "All in a days work!" and then we quietly return the job at hand.

1. Definition of courage courtesy of www.google.com/search
Originally posted 2009-02-13 17:47:33. Republished by Blog Post Promoter
-- Weather When Posted --
Temperature: 33°F;
Humidity: 69%;
Heat Index: 33°F;
Wind Chill: 23°F;
Pressure: 29.97 in.;
Gardeners growing vegetables find that companion planting provides many benefits, one of which is protection from garden pests. A major enemy of the carrot is the carrot fly, whereas the leek suffers from the onion fly and leek moth. Yet when leek and carrot live together in companionship, the strong and strangely different smell of the partner plant repels the insects so much that they do not even attempt to lay their eggs on the neighbor plant. They take off speedily to get away from the smell. This is why mixed plantings give better insect control than mono-culture, where many plants of the same type are planted together in row after row.
Read More→
Originally posted 2009-09-30 14:53:30. Republished by Blog Post Promoter
-- Weather When Posted --
Temperature: 47°F;
Humidity: 86%;
Heat Index: 46°F;
Wind Chill: 43°F;
Pressure: 30.05 in.;
Here is another great video from Yolanda Vanveen! I like the non-toxic approach to pest control in this video clip. Aphids don't have to be your worst nightmare-just get some dish soap and oil and water in a spray bottle and spray them away!
Just watch the demo right here:
Garden & Lawn Pest Control : How to Get Rid of Aphids
-- Weather When Posted --
Temperature: 30°F;
Humidity: 78%;
Heat Index: 30°F;
Wind Chill: 23°F;
Pressure: 30.05 in.;