Archive for Native Plants

Photo by lepiaf.geo (better off slipping into blur)In November in Michigan it is time to put your garden to sleep for the winter. There are perhaps three different approaches to this and each one has its advantages and disadvantages to consider.
The "tidy clean-up" basically cuts every plant-except woody herbs and shrubs- to with-in an inch of it's life and removes every ounce of dead plant matter with-in a mile. This method looks very clean. Reminiscent of your living room after the maid service leaves. This technique will ensure that very few diseased leaves are left behind to infect next years plants.It may also help hinder the slug and pest population. The cons of this technique outweigh the pros, because by removing all plant matter you have also removed all the vital nutrients the decomposing plant matter provides. You have also removed the winter protection and that plant matter provides for roots. Which means that you will have to add expensive fertilizers and amendments to your garden to make up for this. More expensive and less healthy for your garden this technique is not the best approach to a healthy garden. Read More→
Originally posted 2009-12-03 15:47:47. Republished by Blog Post Promoter
-- Weather When Posted --
Temperature: 42°F;
Humidity: 60%;
Heat Index: 42°F;
Wind Chill: 35°F;
Pressure: 29.8 in.;
I am a big fan of native plant gardening…which helps to develope and restore the natural ecosystem of where you live…so remember to include a few native plants into your landscape! Here is an awesome video that explains why native plant gardening is important and a good thing to do.
–GartenGrl

Using native plants to restore balance to the ecosystem in your backyard and attract wildlife
Originally posted 2009-05-25 09:34:30. Republished by Blog Post Promoter
-- Weather When Posted --
Temperature: 57°F;
Humidity: 41%;
Heat Index: 57°F;
Wind Chill: 55°F;
Pressure: 30.16 in.;
Here is another great video that discussed some excellent native plant choices that you can add to your native plant garden.
–GartenGrl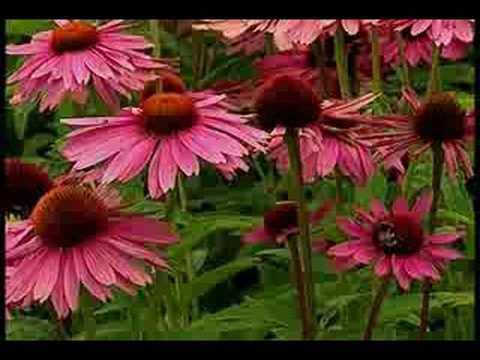 And then of course there's the Purple Cone Flower just finishing up this time of the year but nonetheless spectacular. And just look at this exuberant display of Black-Eyed Susans. It just seems like the more you turn up the heat, the better they perform. These showy flowers are particularly suited as companions to many of the native grasses which move so gracefully in the wind. .
Originally posted 2009-06-01 07:00:39. Republished by Blog Post Promoter
-- Weather When Posted --
Temperature: 52°F;
Humidity: 71%;
Heat Index: 52°F;
Wind Chill: 49°F;
Pressure: 29.95 in.;