Archive for Rose Garden
I always hear people say they don't have a green thumb. This is of course very silly thinking. When you are building and planning a garden you simply need to do a tiny bit of research. A successful garden is about 80 percent choosing the right plant for the right spot. Frankly some spots are like the surface of the moon, nothing will grow there. Find an alternative: try a rock garden. But research first.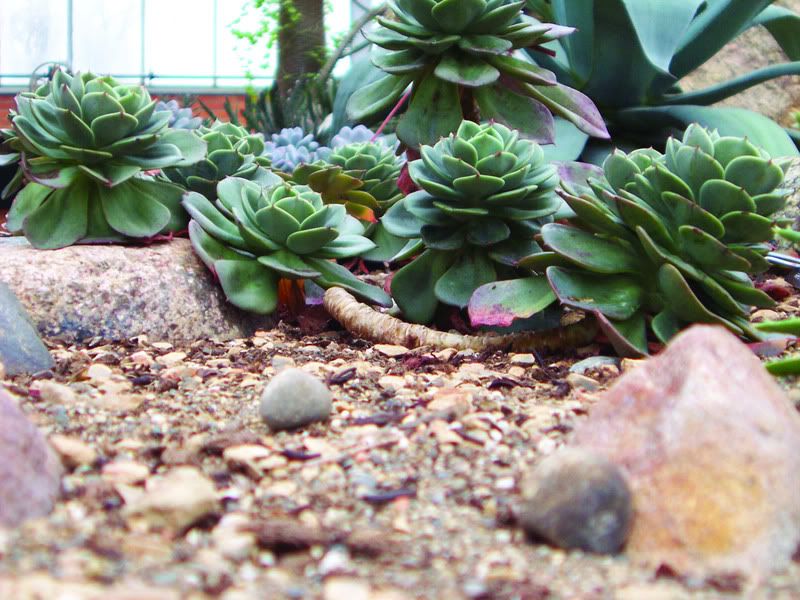 If you have a giant Maple and nothing grows under it. You may need to create a raised bed. But some research would tell you not deeper than two inches, as anything more may kill the tree.
Don't plant Rododendrums in a sunny spot that is solid clay. They just won't really grow well. They would be happier under some pine trees in some nice acidic and loamy soil.
Got a spot that is smoking hot and dry? Don't try to plant a rose garden there…unless you want it to look terrible. Try some Sedum, Cone Flower, Oriental Lillies, Butterfly Weed, Ornamental Grass and maybe a double knock-out rose might be O.K. if you get it some water a few times a week. They kind of thrive on neglect.
A little research goes a long ways to creating a successful and thriving garden.
Visit my other blog GartenGrl for some other ideas I have about gardening.


Originally posted 2009-03-29 17:13:01. Republished by Blog Post Promoter
-- Weather When Posted --
Temperature: 46°F;
Humidity: 47%;
Heat Index: 46°F;
Wind Chill: 45°F;
Pressure: 30.05 in.;
by: Doug Green
Adult Japanese beetles are one quarter to one half inch long with copper colored wing covers and a shiny metallic green head. Between the green head and tiny tufts of white hair along their side you'll recognize them easily as they happily munch on your roses.
While they generally don't eat dogwood, forsythia, holly, lilac, evergreens and Hosta, they'll eat darn near everything else. These beetles feed on flowers and fruits making a skeleton of the leaves by eating the green parts and leaving the veins. Adults are most active from 9 a.m. – 3 p.m. on warm summer days. These voracious pests prefer plants in direct sun, so shady areas are usually less damaged.
The bacterial spore, sold as 'Doom' or 'Grub Attack' is generally used to control these pests. Using a hormone lure in your yard simply attracts more beetles to your yard. Put the lure somewhere else a hundred yards away encouraging the beetles to go elsewhere. Unfortunately, reducing the beetles in your yard will not reduce their attacks in succeeding years. These beetles are great fliers and can travel upwards of ten miles from where they hatched.
Handpicking is also effective on your prized plants – drop the beetles into a bucket of soapy water to kill them. There is some data that suggests hand picking is as effective as spraying noxious chemicals and you know you have killed the beetle when it drowns in your soapy bucket. One trick is to hold the bucket of soapy water under the plant and then shake the plant. Beetles will fall off the plant right into the bucket and you'll get more beetles if you do this in the early morning before they start feeding and flying. Several birds (grackles, cardinals, meadowlarks) feed on the adult beetles so encourage birds in your yard.
If you decide to use a lure, place it at least 100 feet away from your garden. Lures attract beetles and if you place one in your garden, you'll have all the neighbors beetles visiting as well. Find a neighbor who doesn't garden to host the lures and traps.
Source: articlecity.com
Originally posted 2009-08-15 15:34:51. Republished by Blog Post Promoter
-- Weather When Posted --
Temperature: 86°F;
Humidity: 43%;
Heat Index: 86°F;
Wind Chill: 86°F;
Pressure: 30.12 in.;
Garden Room Boundaries…
By Gordon Goh
The areas of your landscape can be divided into several sections and areas, which are also known as garden rooms. Garden rooms are spaces where you plant, grow, and display different ideas in gardening in various creative methods. One garden room could be a rose garden, while another could include the use of a water garden, while still another garden room in your landscape could include the use of just purple flowers. Garden rooms are your creation, and only limited to your imagination.
To create the rooms in your landscape where you can be both different and creative you need to actually create some type of walls in your gardens. The walls in your gardens are going to be grown from other larger types of plants. Living fences are one 'way' that you can create garden rooms.
Originally posted 2009-07-31 08:49:54. Republished by Blog Post Promoter
-- Weather When Posted --
Temperature: 69°F;
Humidity: 70%;
Heat Index: 69°F;
Wind Chill: 69°F;
Pressure: 29.89 in.;